NSC '19 - Used and abused by Kingfish and teased by Tuna
O Portland…where do I begin.
Following my first North Shore Challenge in 2018, I was hooked. Eoin and his team at the SeaSherpa Camp had worked tirelessly through the year to improve on 2018 with an added 2nd day Dash and morning fish. Competitors could weigh up whether they would go "all out" in attempt to add to their first day tally or try to be the first or second person back to the beach with a dedicated species - snapper.
Well I arrived at Henty Bay Caravan Park not long before sunset, following a slow day at work. My camping buddy Luis was just getting off the water and I set about pitching up. We made a brief plan to hit the water in the morning around first light to see what we could find. Following last year, I had vowed to get to Portland a day early to have a fish before the comp to allow me to refine what I would take out on the water. The aim, to not over-complicate things on comp day.
I didn't sleep well with the excitement just for a practice fish, but still hit the water around sunrise. I instantly picked up a pinky which I returned. Within 1km of launch Luis shouted over to me. He'd spotted some surface action, which when we got close, could identify them as Kingies. Luis' excitement was too much as he looked down at his Elite Ti widescreen tv yelling, "They're casting shadows on the sidescan! Good Fish!". We both flicked a plastic into the school. Instantly, as the plastic hit the water, a swirl behind it fractionally preceding my rod loading up. Within a second the leader sprung back and I missed my chance. Luis' plastic got a couple of follows but no takers. We soon lost the school and I found myself frantically casting in all directions hoping for something. To my surprise I was on again but it didn't feel very big. Having not caught a kingie before, I didn't know what the fight was like, so called it for a snapper. A little disappointed, I pulled in a snapper in the low to mid 40's. I remember thinking…"What has Portland done to me…Any other time I would be happy with a mid 40's snapper". But I wasn't here for them. I quickly unhooked him, and as I went to return him, he wriggled loose, slicing me with his gill plate – just to say thanks.
We had truly lost the school so decided to head to the anchorage, making a GPS mark of where we'd found them. The offshore wind was picking up along the way and having got all the way out without seeing any birds, or sounding up any marks or baitfish, we pulled the pin. Good job we did, as not long into the return journey the offshore wind picked up that much more, making our journey back 1 ½-2hr slog at 3-4kph.
I lost my brand new bait bucket on the way in, as I forgot to leash it to the deck. Following the lack of action out wide, Both Luis and I vowed not to head out wide on comp day.
Comp Day 1
I had slept a little better, having dreamt of Kingfish. Although only lasting a second, I had an air of anticipation of catching my first Kingfish. The Seasherpa team was patrolling the beach, checking off safety gear and following an "Admin, Admin, Admin, this is Boat No.8 with a radio check" being confirmed, I was all set. The plan was simple – head straight over to where we encountered to Kings. 6:30am came and I raced over to my mark….nothing. I trolled around for about 45-60mins for nothing. Just as I was trying to muster up a Plan B. I snagged small pinkie, which I kept for fear of a repeat of last year's donuts. This wasn't the optimistic start I had dreamt of. I was part weigh over to Nun's, but having seen most of the competitors heading over there, I thought to myself, "I want to do this on my own. If I'm going to find fish, I'm going to find my own fish!" Remembering mine and Luis' vow not to head to the anchorage and with most heading over to Nun's, my only option in my mind was to head over to Minerva Reef.
Enroute, I was already thinking that Minerva would be the same distance as the anchorage, but nonetheless, I wasn't going to the anchorage. I soon came across a patch of some great structure and with a deadbait and a small plastic out the back I took a break for a drink and a Carman Bar(Great edition to the starter packs). Bang! The bait rod went off and I was pulling in a 40cm pinkie. I stuck around here, slowly drifting in the little wind and managed to pick 3 similar sized pinkies on bait and plastics. While browsing the horizon I saw a single bird dive. Keeping an eye on him to make sure it wasn't just picking something off the surface, I counted 5 back to back dives. That was enough for me! I tanked it the 1km or so over, by which time a second bird had joined the party without me. I was pumped! Completely on my own, with the radio chatter asking how much the recently caught kingfish would be worth by a fellow competitor. I was amongst it. The biggest school of fish I'd seen to date. Let alone the individual size they turned out to be. I dropped the Waterwolf camera under the surface to record their size, I had my squid strip out the back and started working an SP. In anticipation for what could be possible I frantically started to sort out my deck.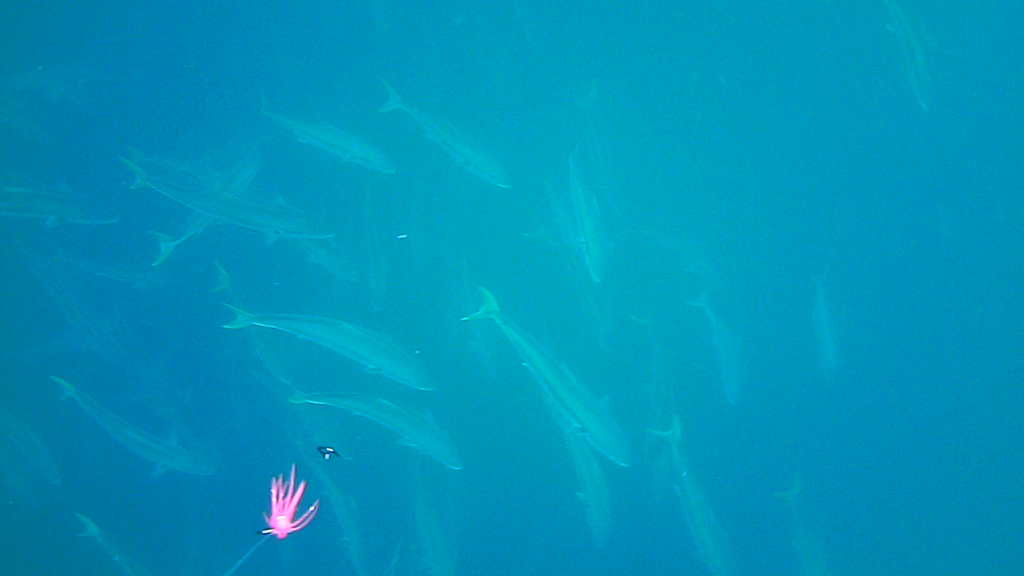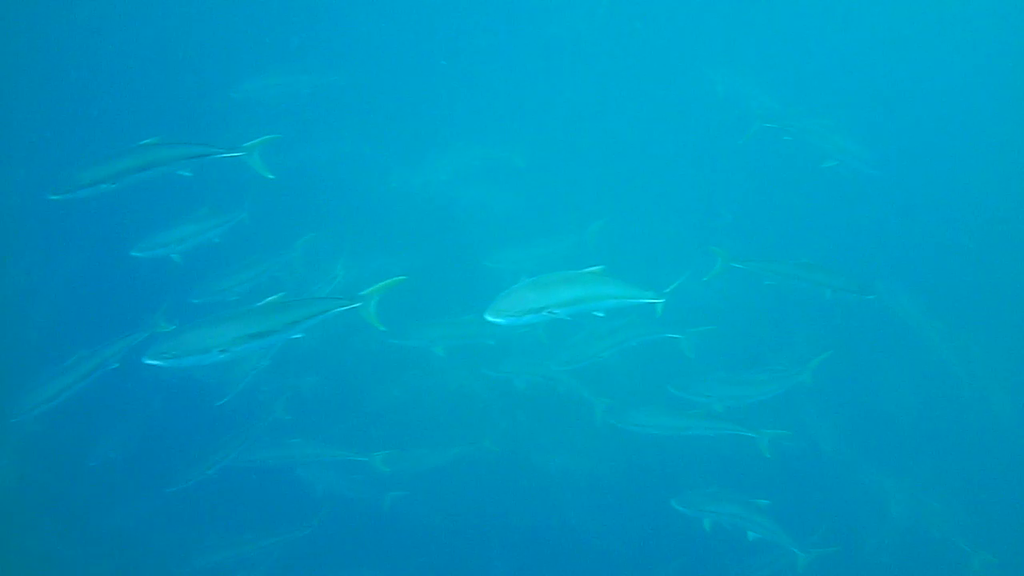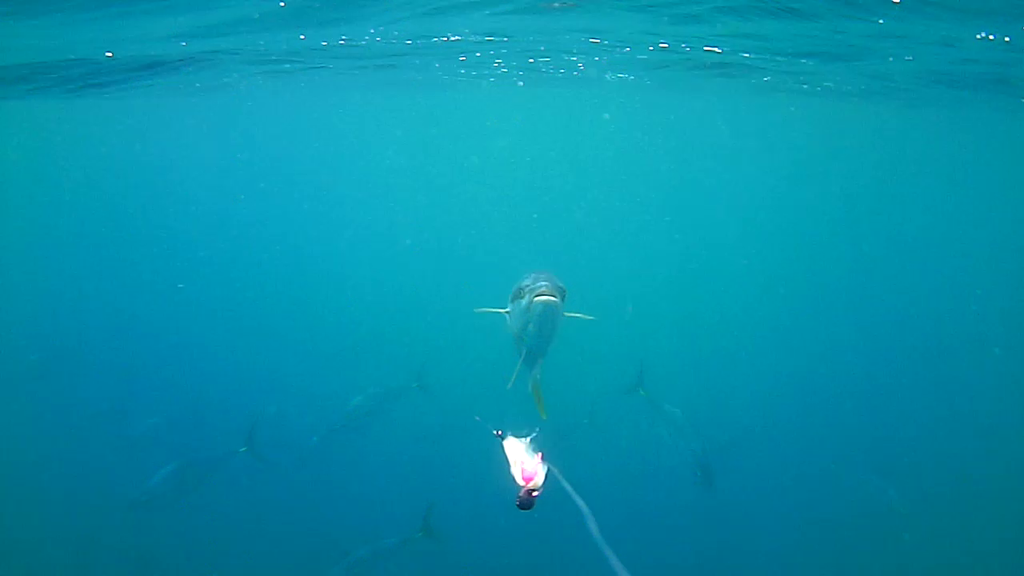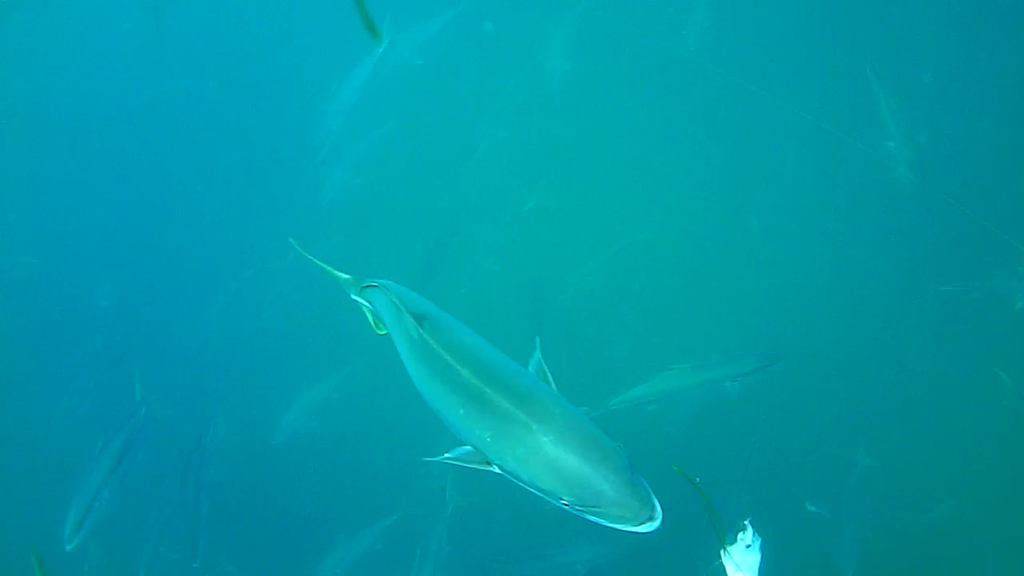 Third cast, my new veritas 10-15kg with Slammer III 5500 loaded up. I have NEVER experienced such power. I fought it for a couple of minutes and as my squid strip loaded up I turned around to see and the kingie I was fighting took a dive under the yak taking the line around my transducer arm! Larry (happyas) called it! I took my eye off the ball for a second! I managed to untangle it without it going on a significant run. I just hoped no damage was done. Alas, I feared it did, as just when the second rod loaded up, I got busted off! Such mixed emotions. I had just lost what felt to be the fish of a lifetime and my first Kingfish, but I was on again. I now had to quickly channel my energy, concentrate on this one and get it in the hatch. The same routine ensued. A couple of good runs, before heading straight towards me then headed down to Davey Jones. I could feel the rubbing, but couldn't do anything to stop it. Do I back off the drag or try and lift its head? The latter proved impossible and the second good fight ended like the first. Rubbed off, busted off, and filled with dejection.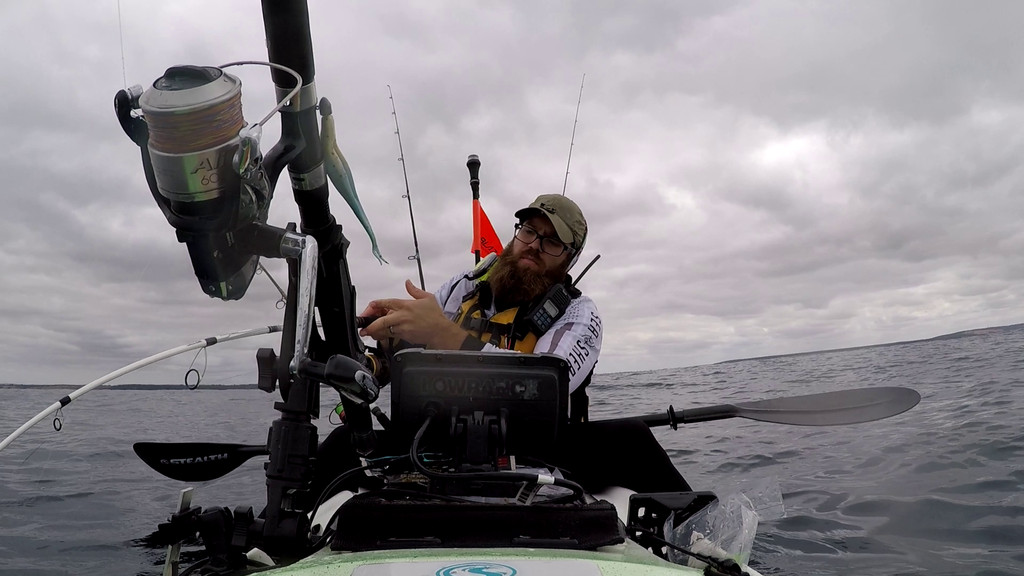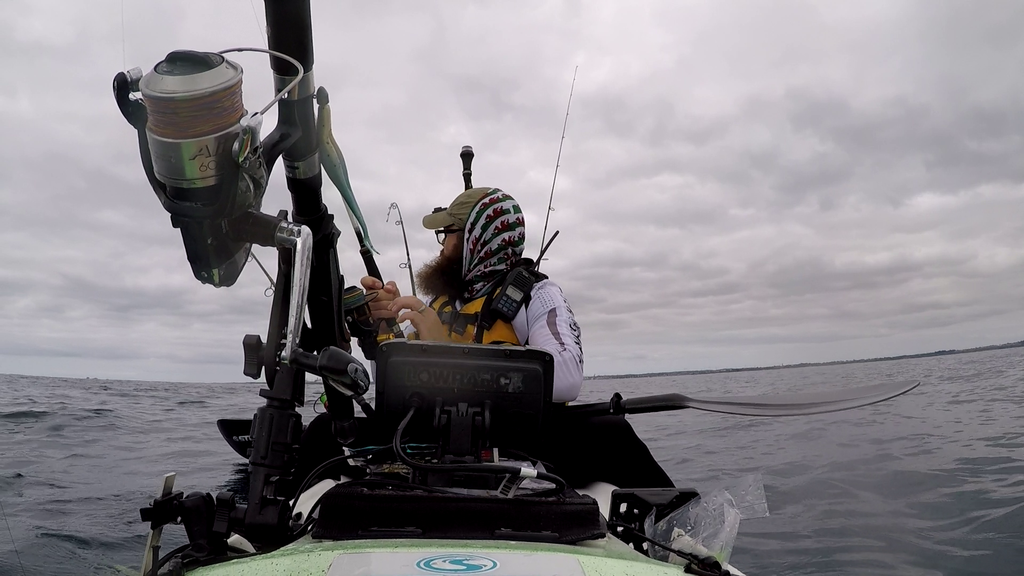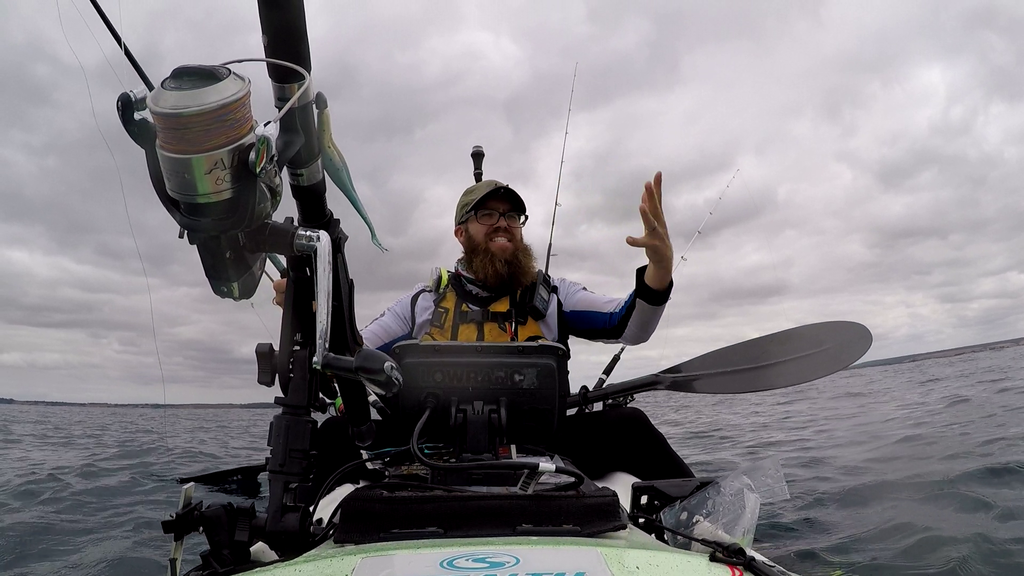 I re-rigged while racking my brain what I could have done differently. I tried to find the school again spiralling out form my mark but lost them. I sat there for 15minutes in disbelief and in awe of what had just happened, when again I saw another pair of birds working a km away from me and, yet again, closer to the anchorage. The forbidden anchorage. Never defeated and hoping to make up for the disappointment, I paddled like crazy. The sounder lit up again on downscan and sidescan which was set to 50m right/left. My presumption was Kingies again. Underwater footage would prove otherwise.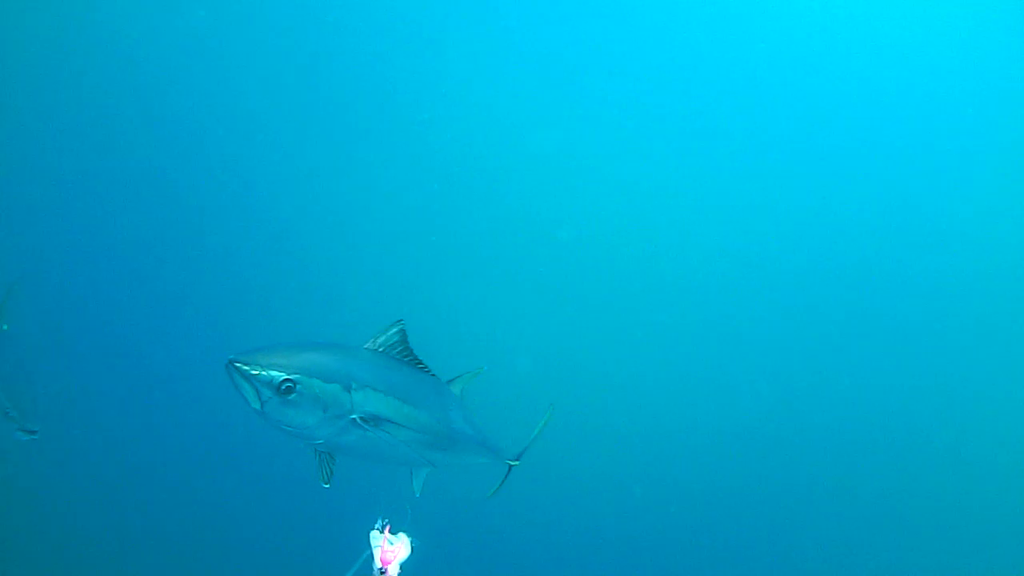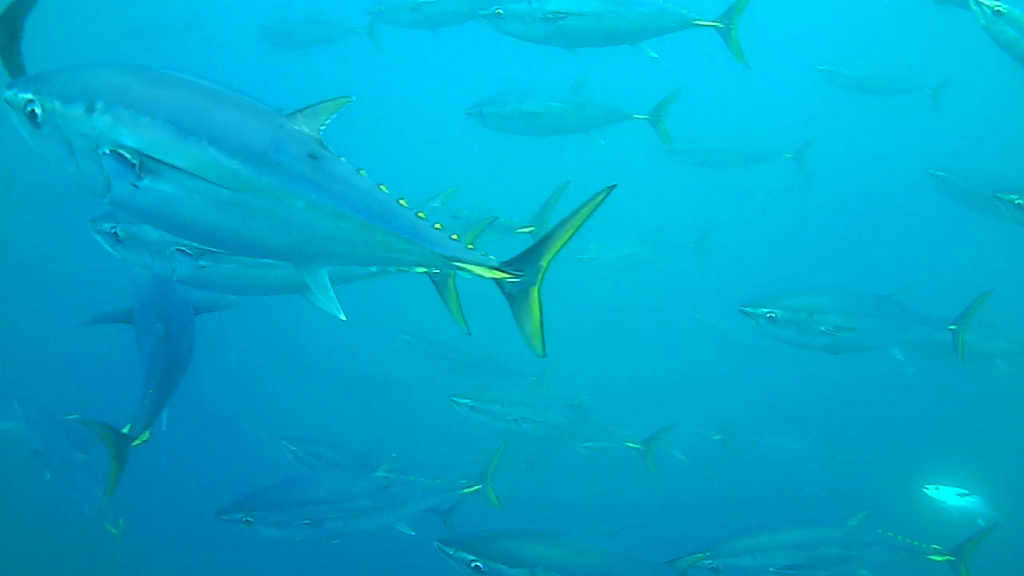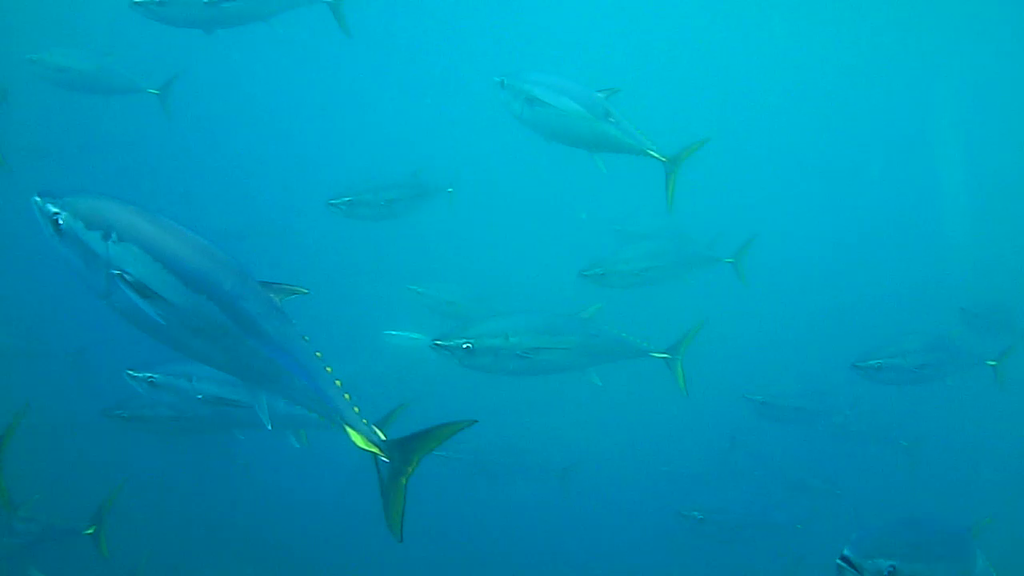 I trolled my squid and flicked different plastics but could not tempt a hook up.
Yet again, the school disappeared, and I would see another two birds working. You got it! Another km closer to the anchorage and not far from Mav's uniquely recognisable AI decals. They were right there!
But I was running out of time. Remembering, I at least had two snapper to weigh in so couldn't miss the cut-off. Eoin came over the radio with the 90min warning, which was my call to head in, trolling all the way with no takers.
I managed to place 3rd for Day 1 below two solid Kings that were caught in the high 80's and 90's. I was chuffed…and once showered reviewed my footage in shear disbelief. If only I had landed one successfully…. Life's all about what ifs and I had vowed not to go to the anchorage, but I just followed the lie of the land on the day and boy was I glad I did. What an experience.
Comp Day 2
With half the fishing time and an aching body, I was going all out. I may be third, but I hadn't come for snapper and I hadn't signed up because of the prize pool. I wanted redemption. Longer, and heavier leader with my GPS set for the Anchorage. However, I didn't see a single bird touch the water and with the wind out wide making for a repeat of Friday's return I zig-zagged from half way out back to launch for not much luck. I had a livie out the back for 4hrs on the waterwolf camera line for a bit of learning experience – both on how it swims and how it what other "company" he may get along the way. Very interesting.
There wasn't much success by others throughout the morning. A couple of people picked up the snapper dash, but other than that I think only Shane and Tas brought in a good pinkie and Salmon respectively. I knew I was out of 3rd and probably down to 5th and out of the prizes I thought. I had come for the pelagics and had dipped my toe with the Kingies. I was happy!
I had been leapfrogged by Tas, but held onto 4th, just ahead of Shane. I was surprised to discover the prize packs were for 1st – 5th so even came away with a massive smile.
What a great weekend. I couldn't recommend it enough to anyone. I am already looking at the forecast for a return trip and spurred on my Jordo's epic King and monster Tuna he bagged across the weekend too.
I hope this captures how fortunate I was when i decided to go out on a limb on the day. I've starting trimming down the videos I have but i do have about 40mins-1hr of underwater footage of being on 3-4 different schools.
Cheers,
Nath
Facebook Page
Reeling Fish
Instagram Page
Reeling Fish